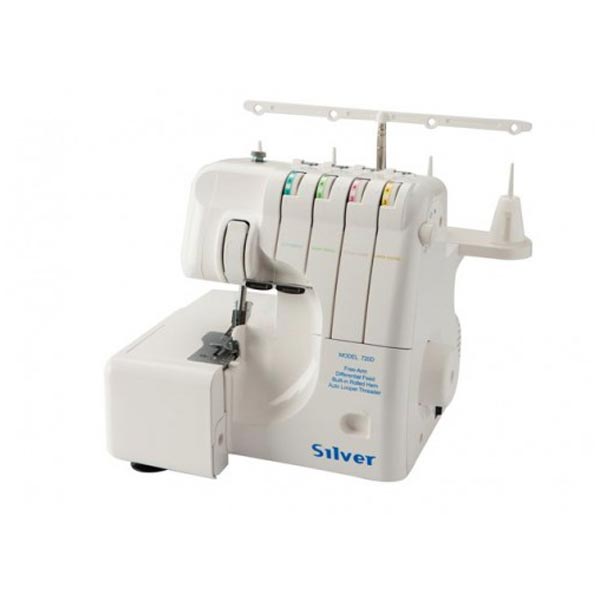 Silver Viscount 720D Overlocker Machine
Regular price £199.16 Sale
The Silver Viscount 720D Overlocker Machine is a lightweight thread machine that offers easy threading and effortless stitching for your endless sewing projects.
With built-in tension adjusting device, differential feed and stitch length (1.1-4.0) functions, automatic looper threader, built-in rolled hem and upper knife clutch device and a detachable extension plate for free arm sewing.
It has a variable stitch width of 2.3 – 7.0mm and an automatic safety switch which is activated when the looper cover is opened, colour-coded thread paths aid quick threading and a tension release button enables you to remove fabric easily whilst maintaining pre-set tensions.
Features & Benefits
Includes 1 Overlocker Machine
3 or 4 thread overlock
Lightweight aluminium inner frame1250 stitches per minute
Stitch length: 1.2 - 4.0mm
Stitch width: 2.3 - 7.0mm
Built-in rolled hem
Auto looper threader
Built-in sewing lamp
Detachable extension plate for free arm sewing
Tension release button
Automatic safety switch
Built-in upper knife clutch device
Presser foot lift: 5 - 6mm
HA1 needle (130/705H)
Colour coded thread guide
Differential feed ratio: 0.7 - 2.0mm
Accessories Included
General purpose foot
Soft cover
Accessory box
Tweezers
Screwdriver
Thread nets
Cleaning brush
Thread spool caps
Machine oil
Needle removing hexagonal allen key
Needle set
Foot speed control and instruction manual